"Get you some dirt. They're not making any more," resigned from many thoughts after having an extraordinary interview with Mr. and Mrs. Collins, also known as Mr. Ernest and Mrs. Floretta. They represent a legacy like no other. A Black landownership legacy is seen as an anomaly because most black families were denied their forty acres and a mule after reconstruction. Some were even terrorized out of their land by White men who didn't respect the hard work they put into it, or simply believed that they were entitled to something they didn't earn just because society deemed them a superior race.
Well, that is not the story of the Collins family legacy. After the end of the Civil War and during Reconstruction in 1871, Mr. Ernest's great, great grandfather, Mr. Newton Isaac Collins, purchased 130 acres of land. That one purchase started a rich, loving, and committed legacy for six generations of Black landownership.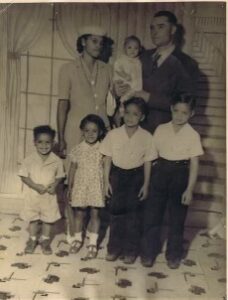 "Flo and I are in the business of agriculture, and she has been supporting me in the ranching." These first words from Mr. Ernest warmed my heart immediately as he explained the secret of his success is his family. On March 5, 1965, on a Friday evening, Flo met Ernest at the student union on the campus of Prairie View A&M University. They were introduced by mutual friends and quickly became inseparable. Their first date was at the movies. Ernest had to ask Flo's parents' permission to take her on a date.  He picked her up at seven and was told to have her back by nine. "I was so nervous; I couldn't even enjoy the movie because I knew I had to get Flo back to her parents on time."
After getting Flo back home on time, Ernest's car wouldn't start, so when Flo discovered he was still in her driveway, she went to check on him.  After realizing that the car was not going to work, Flo's parents permitted Ernest to stay the night with her brother in his room. That night solidified their friendship which progressed into a beautiful relationship that evolved into a loving and devoted marriage of almost sixty years. Three children and six grandchildren later, they have continued the Collins family legacy of family first and success will naturally flow.
Mr. Ernest, also known lovingly as Ernie to his friends, grew up on a farm in Travis County, approximately seven miles southeast of Austin, Texas. The farm, located on Dee Gabriel Collins Road, has been owned and operated by members of the Collins family since the late 1800s. Their family farm has been recognized by the state of Texas for owning and operating for over 100 consecutive years.  He is one of eleven children born to the late Talferd and Ella Collins. His parents believed in hard work and education and that was their top priority for the family. All of their children were supported and encouraged to take full advantage of educational opportunities. As a result, they have an amazing legacy of all eleven children graduating from high school, and all attended college.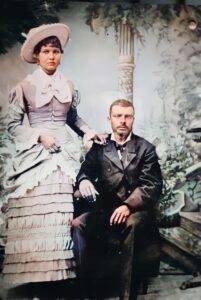 Ernie earned a Bachelor of Arts in Business Administration from Prairie View A&M University and has additional studies toward an MBA at Texas Southern University. His wife, Floretta graduated in 1966 with a degree in elementary education.  Upon graduation, he was commissioned 2nd Lieutenant in the United States Army. Before reporting for officer's basic training in artillery at Fort Sill, Oklahoma, Ernie married the lady of his dreams, Floretta Brown, in her hometown of Bay City, Texas.
Ernie served two years in the Army as a Fort Ord, California training officer. He was discharged as a 1st Lieutenant in 1969. Upon returning to civilian life, he joined Humble Oil and Refining Company, now ExxonMobil in Denver, Colorado. After having a very successful career in various marketing and management positions, in 2003, he retired after 34 years of service.
During his time with ExxonMobil, they purchased their first farm, Files Valley, in 1973. After retiring, Mr. and Mrs. Collins decided to return to the simple life of their family farm. They both grew up on Texas farms, Ernie near Austin, and Floretta in Bay City. Ms. Floretta's family purchased their land in 1940 and it is still in her family today. By the late 1890s, Ernie's family had purchased 1000 acres of land in Pilot Knob. In 1891, Newton Collins sold his 130 acres of improved land for 500 acres of unimproved land. Then in the late 1890s, his son Dee Gabriel Collins purchased an adjacent 500 acres of land. Pilot Knob is considered A Freedman's Town, a settlement created by formerly enslaved people.
"Farming is turning the soil and growing crops to sell. Ranching is landownership with cattle and maintaining grass for your cattle to eat. A rancher deals with cows and calves. We sell calves to market." Mr. Collins made the distinction between Farmers and Ranchers so easy to understand and even more interesting to explore.  When he shared that his father and mother did this all of their lives, he admitted to trying to escape the tradition through education. "Education was a tool to see that there was a Great Escape."  He admitted that Ms. Floretta thought farming was fun and he said "No".  He realized that he loved the Cattle and Horses, not the cotton and corn. So he focused on what he loved and now almost fifty years later he has a very successful Cattle Ranch, Red Hill Ranch.
By following the family tradition, he maintained a cattle herd on a farm that boasts six generations of land ownership. What an extraordinary story to tell and utilize to empower more African American families to invest in their family legacy through land ownership. The Collins family is a blueprint for what can be accomplished when we put family first, invest in the traditions, and commit to the longevity of Generational Wealth Building. "It was hard to get away from six generations of land ownership because I saw my father and grandfather work their land. I also knew the history of my ancestors in other generations did it too." He understands that cattle ranching is labor and capital-intensive. "You need knowledge of Cattle. My family owned their land and sharecropping was perceived as horrible because they were working someone else's land."
It is so empowering to hear a story that doesn't end in Black family trauma like Black Wall Street, Rosedale, Greenwood, or the infamous Lake Lanier. The Collins family didn't experience negativity because they owned their property and fearlessly protected their investment. "Farming was perceived as horrible because most Black people were sharecroppers. When you own your land, it is pretty good and there was no negativity. Mr. Collin's great grandfather, Dee Gabriel, was a stand-up kind of guy with eighteen children, so there was no taking his land." Mr. Collins admits that "Education made progress possible."
The original ranch house had no telephones. The kids loved learning and enjoying the country life on the ranch. He remembered his granddad saying, "Get you some dirt, Boy! They're not making any more of it." According to Mr. Collins, "You must be committed to investing your time and money. Most people don't understand how to operate a farm if they didn't grow up on a farm, but you can educate yourself and you need a mentor. People think farming is still hard like it was for our ancestors, but now farming equipment does a lot of the major work. Equipment has progressed, which allows them to experience the evolution of farming in the 21st century." Mr. Collins believes mentorship has been his saving grace, so he enjoys helping mentees gain confidence, showing them how to maintain ownership of their land and take away the fear of the process. "One Hundred Ranchers is a great organization composed of Individuals that grew up on ranches. They were very supportive and provided education about farming. It is a small group of Black legacy landowners. He said his dad would tell him that "nothing changed under the sun, baby calves are born in the spring and you sell them in the fall. It is the process of life."
Mr. Collins admits that his ancestors made the ultimate sacrifice in the 1800s to purchase their family land. "That increased our Net worth. He took the time to teach his children and grandchildren the history of their family, and how farming and ranching work. That is the most important part of building generational wealth. Todd, his son, bought his first land at the ripe age of 17, and at the age of 17, his granddaughter, Brooke whom he often took care of, invested $5,000 in her first land purchase. All of Earnest and Floretta's children, Leslie, Daryl, and Todd, purchased land at a young age, which is a great example of how land ownership can impact many generations to come.
Mr. Collins is proud to be very actively involved in the community as he serves as a Lifetime Director of the Houston Livestock Show and Rodeo, Director of the Soil and Water Conservation Board for Walker County, Board Member of 100 Ranchers organization and Lifetime Member of the Landowners Association of Texas. Collins serves as a CARET (Council for Agricultural Research, Extension and Teaching) Representative for Prairie View, and was the 2015 recipient of the 1890 Universities Career Exemplar Award by APLU (Association of Public Land-Grant Universities). He served as a Member of the Prairie View A&M University Capital Campaign Cabinet, a Member of the Board of Directors for the H.S. Estelle 4-H and Youth Camp, Advisor to the Farm Service Agency County Committee for Harris and Montgomery Counties. He is also the Trustee Emeritus of Prairie View A&M Foundation, a member of Prairie View A&M President's Advisory Council, and a member of Capital Farm Credits Advisory Council.  Mr. and Mrs. Collins were honored with the naming of the Ernest Boyd and Floretta Brown Collins Auditorium in the new Business and Agricultural building on the Prairie View A&M University campus. They are strong supporters of youth and education. They have established endowed scholarship funds at Prairie View A&M University and Morehouse College in Atlanta, Georgia.
Family over everything is the Collins Family motto. Ernie and Flo are the proud parents of three children, Leslie Collins-Thompson (Rod), Todd Jamal (Janelle), and Daryl Donovan (deceased). They are also proud grandparents of six: Taylor Floretta, Ross Lorenzo and Brooke Carlette Thompson, Sydney Rose, Ella Gabrielle, and Alston Ernest Collins. In retirement, Ernie's top priorities are spending time at the family compound, Red Hill Ranch, and working closely with his grandchildren. The Collins family continues to empower the next generation of Black Landowners and challenge our youth to make the sacrifice to invest in themselves.