Junior Mason Fleming, who is a defensive lineman at Manvel High School, has been working to push his football career to perfection through high confidence, and nothing but skill. Fleming is a great asset to his team as he brings a great level of athleticism like no other.
Fleming grew up in Manvel, Texas and surprisingly did not grow up playing football. When he was younger, Fleming always enjoyed watching his older brother Jaxson Fleming play football, who currently plays defensive back at Arkansas State University, and was encouraged by him to give the sport a shot at 11 years old. Having an older brother who played football was a learning experience and allowed Fleming to improve. "I would say growing up with siblings who played the same sport as I inspired me…it got me into football," said Fleming. While getting more into the game with the help of his older brother, Fleming realized how much football meant to him, and soon developed a deep passion for it.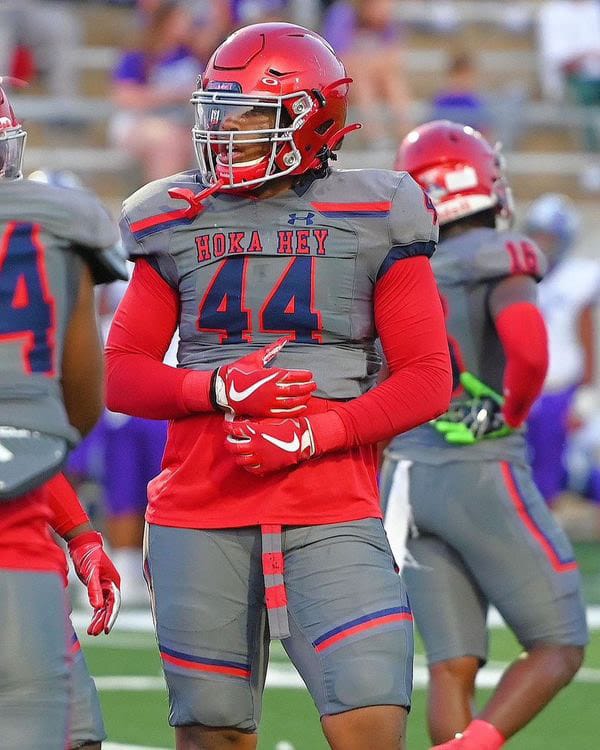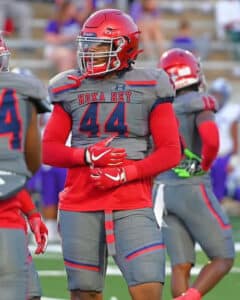 Fleming played school football for the first time at Rodeo Palms Middle School around seventh grade. Starting out, it was quite confusing for Mason. He was always naturally athletic, but during that period, he didn't really understand the game of football. Being the fast learner he is, he began to get the hang of things and started to improve drastically later in the football season. "Every year I got better and learned more about the game." Though he was still learning every step of the way, his brother and his parents supported him, never missing a single game.
An anxious Fleming made the JV football team at Hightower High School his freshman year. Aside from his uneasy feelings, he continued to wake up early to work out, practice agility and speed, and do field work in his down time with his father, who coaches him to be the best and nothing less. Working his way through JV, his anxious feelings soon turned into excitement when he attended different football camps at various colleges such as Alabama University, Arkansas State University, McNeese State University, Ole Miss Football, Prairie View A&M University, Texas Christian University, and University of Texas at San Antonio. He also plans to take on a visit at Arkansas State University and Texas State University to tour the facilities and meet the coaching staff.
His prior training all paid off the following year when he was placed on varsity football at Manvel High School. Speed was the biggest difference Fleming noted between varsity and JV football. However, the transition was not difficult for Fleming due to the time he spent training and learning from his past mistakes to become a better player. Because of this, he was excited and felt confident being on varsity. "Football to me is not really challenging, but it is very competitive," he said.
Fleming now carries the torch with his older brother and is encouraging his 11-year-old younger brother to play football just like Manson did when he was 11. "We definitely try to inspire him. I try to keep him under my wing and do my best to guide him to success."
Fleming has received a total of four offers from Arkansas State University, Prairie Vire A& M University, Texas State University, and Lehigh University. He is excited for his future and his journey to playing college football.