Martin Luther King Jr. said, "Faith is taking the first step even when you don't see the whole staircase." This quote reminds me of the importance of mentoring our youth. Mentorship gives our scholars a strong foundation and the confidence to take the next step. Through mentorship, it allows our youth to know someone cares about the choices they make in life. Even when they don't make the right choice, a caring mentor will be there to help them figure out the next steps towards improvement.
The City of Houston Councilman Edward Pollard of District J was blessed with one of the best mentors in the world, Rev. Dr. Theodore Judson Jemison. He was not only Councilman Edward's beloved grandfather, but a mentor to the late Rev. Dr. Martin Luther King Jr. Rev. Dr. Jemison was not only Godfearing, but a compassionate and loving leader who believed in standing up for change. Dr. Jemison believed in the Golden Rule: "Do unto others as you would have them do unto you." This mindset allowed Dr. Jemison to trust that God would protect him, which allowed him to pursue equality and justice for all.
It is a little-known fact that Dr. Jemison created the blueprint for the Civil Rights Movement's bus boycotts. In 1953, Baton Rouge's African American citizens were tired of paying the same price as Whites to be forced to sit at the back of the bus or stand if a White person wanted their seat. So, they organized the first large-scale bus boycott of a southern city's segregated bus system. Dr. Jemison convinced the Baton Rouge City Council to abolish the law that prevented Black citizens from sitting in the first ten rows of public buses, which resulted in the White bus drivers going on strike to prevent implementation of the law. When the city rescinded the law, Dr. Jemison and other Baton Rouge leaders initiated a bus boycott by local Black residents who comprised 80% of the bus riders. He also organized a free-ride system to help Blacks get around without access to public transportation. After five consecutive days of a week-long boycott, a compromise was reached in which only the first two rows of public buses were reserved for Whites. The African Americans then organized carpools and refused to ride the buses in Baton Rouge.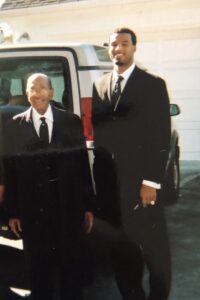 When the leader of the boycott, Dr. Jemison, struck a deal with the city's leadership, many believed that he didn't gain substantial improvements for Black riders. Many participants felt Dr. Jemison capitulated too quickly, but God had a bigger plan to root out racism at its core and Dr. Jemison deserves credit for his tenacity and courage to dare to take the first step to equality. The Baton Rouge Bus Boycott made national headlines and inspired civil rights leaders across the South. Councilman Pollard highlighted the continued mentorship of Dr. Jemison and Dr. King and said, "After my grandfather successfully led the bus boycott in Baton Rouge, Rev. King came down to Baton Rouge to visit him to learn the strategy. King also frequently called my grandfather to get advice on how to organize and what to expect. King notes many times in his autobiography "Stride Towards Freedom" that Jemison's "painstaking description of the Baton Rouge experience was invaluable."
With that small victory, the African American Religious Leaders in the south set forth to truly change the world with the founding of the Southern Christian Leadership Conference (SCLC). In 1957, SCLC had the goal of redeeming "the soul of America" through nonviolent resistance, so they coordinated the action of local protest groups throughout the South. Under the leadership of Dr. King. and the blueprint of Dr. Jemison's Baton Rouge Bus Boycott, the organization collaborated with Black churches to create a stronghold that would cripple racism throughout the south. According to Councilman Pollard, "Rev. Martin Luther King Jr. conferred with my grandfather about the tactics used in Baton Rouge, and King applied those lessons when planning the bus boycott that ultimately defeated segregation in Montgomery, Alabama, and drew major media attention to the injustices of Jim Crow." He further continued discussing his family's history and said, "My grandfather and Dr. King also served together on the first board of directors of the Southern Christian Leadership Conference (SCLC) during the civil rights era. My grandfather was the Secretary and King served as President." This mentorship between Jemison and Dr. King changed our world forever. Dr. King wrote, with fellow ministers C. K. Steele and Fred Shuttlesworth in January 1957, "because we have no moral choice, before God, but to delve deeper into the struggle—and to do so with greater reliance on non-violence and with greater unity, coordination, sharing and Christian understanding".
Councilman Pollard was brought up around the expectation of service, leadership, and helping people. It was just how his family operated. He was taught to look out for others and service was immersed in his family's everyday lives. Growing up, he was encouraged to learn about current events and to read the newspaper to know what was going on in our world.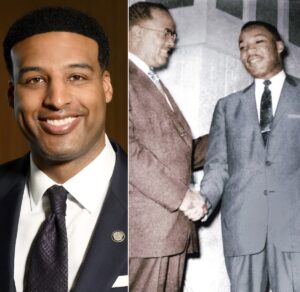 As Pastor of the Mt. Zion First Baptist Church for fifty years, Dr. Jemison met the needs of his congregation. The church is located on T.J. Jemison Blvd in Baton Rouge, LA. Under his leadership, Mount Zion was the largest Black church in Louisiana. Rev. Jemison organized voter registration efforts that strengthened the political power of Black Baton Rouge residents. Their improved political standing led to the creation of over a dozen new public schools for African Americans in Baton Rouge. Councilman Pollard proudly shared, "My grandfather went on to be the President of the National Baptist Convention, USA Inc., which was the largest Black religious group in the world."
In 1945, Rev. Jemison married Celestine Catlett Jemison, and together they had three kids, T.J. Jemison, Jr., Dianne Jemison Pollard, and Betty Jane Wagner. Councilman Pollard's mother Dianne Jemison Pollard,  has always been strong proponent of education as she obtained her doctoral degree in counseling from Texas Southern University. She recently retired as Dean of the Thomas F. Freeman Honors College and Professor of Theatre in the Department of Visual and Performing Arts where she served tirelessly for four decades.
Councilman Pollard is a proud product of Southwest Houston. He attended all HISD schools (Lovett, Johnston, Lamar), before accepting a basketball scholarship to Morehouse College. He is also an honors graduate of the Thurgood Marshall School of Law at Texas Southern University and received a certificate in Negotiation Mastery from Harvard Business School. Professionally, Edward is the principal owner of Pollard Legal Group, LLC, a boutique civil litigation law firm located in District J. "My grandfather did not go to Morehouse, but served on the Morehouse College Board of Regents and also funded the statue of Dr. King in front of King Chapel on Morehouse's campus when he was President of the National Baptist Convention, USA Inc."
Continuing his family tradition of Mentorship, Pollard is also the founder of Suits for Success, a non-profit organization that mentors teen boys on life skills at District J high schools. The semester-long program focuses on public speaking, etiquette training, personal finance, resume building, interview techniques, and how to tie a tie. After the program, each student receives a free suit, shirt, and tie for high school graduation and life beyond.
The Jemison and Pollard family have an extraordinary legacy of service, mentorship, and scholarship that has stood the test of time. When you give back to your community unselfishly, your community supports you naturally, which explains Councilman Pollard's success as the only Black Male Councilman on our present Houston City Council in a district with no predominantly black neighborhoods. He has taken his grandfather's mentorship and life examples to serve all people and not just people who look like him. He has become the personification of what his grandfather and Dr. King fought so hard to create a world where we judge people by the content of their character.