Raised in Acres Homes and a graduate of Booker T. Washington class of 1986, Rita Hamilton enjoys helping others and loves working with kids. She grew up in poverty and didn't get exposed to much outside of her environment, but always knew she wanted to branch out and see what the world had to offer.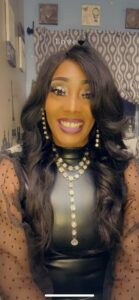 She received her cosmetology license in 1993 and became a foster parent in 1998 in the state of Nevada, where she opened a therapeutic foster home. In 2004, she moved back to Houston, and obtained a bachelor's in theology in 2015. In 2020, she became foster parent of the month and has been with her current agency for 12 years. "I've always had love and have love for kids. When my mom passed away, I moved to Reno, and that's when I found my purpose in life."
After her mom died, she gave her life to Christ. Hamilton is a faithful member of New Destiny Praise and Worship Center under the leadership of Bishop Dr. Ethan and Dr. Pam Ogletree, located off 4170 W. Greens Road in Houston, where she proudly serves as the leader of the Greeters Committee. Additionally, she serves our veterans and enjoys every minute of it. "I love working with veterans," Hamilton stated. She began to reflect on her father who served in the Vietnam War, and sadly died nine years ago.
Although Hamilton has had different obstacles and challenges in her life, God placed it on her heart to create Queens & Kings Among Us Foundation, a non-profit organization devoted to empowering faith and self-esteem to girls and boys who are high school seniors in Child Protective Services (CPS) or those who are experiencing financial hardship. The desire is to help them attend their formal events in elegance, regardless of their situation. The goal of the organization is to provide free prom dresses, shoes, purses, ties, suits, and accessories needed to make their prom night special.
The name of the nonprofit has a biblical reference as "Jesus is our king, and so we are all kings and queens," Hamilton said. She also put "among us" because we are surrounded by each other to help each other." In addition, the organization is "adjusting one crown at a time," no matter what someone may be going through. "That's why I said adjusting because you still have your crown, so we are just going to adjust is to make it straight," she said.
Over the years, Hamilton has worked with many different kids who are at different levels of their life and who have had great challenges. For those kids who may be going through a hard time she said, "There's always light at the end of the tunnel. Find that inner voice that will help you make it through…find that positive energy around you whether it's a teacher, someone from your church, someone in the neighborhood, because sometimes it's not your family that helps you get through."
The non-profit is currently preparing for their 3rd annual anniversary and are looking for donations to assist in making this year a huge success. The drive is on March 10, 2023, at Redd's, which is located off 850 Cypress Creek Pkwy Houston, TX 77067, and will be from 10am – 2pm. They will also hold another drive on April 15th at Shiklozet Fashion Boutique off 1702 1st St. E Suite A in Humble TX 77338. For more information about the organization and upcoming events, you can view their website at https://queensandkingsamongusfoundation.org/.