One NFL player is giving back to his community through his nonprofit Bee's Believers, founded by Emmanuel Ellerbee. Bee's Believers was created in 2021 to get kids interested in science, technology, engineering, arts, and mathematics (STEAM), in conjunction with athletics.
In the African American community, there is this misconception that you must be a rapper or an athlete to be successful, and Ellerbee "wants to show kids about the options they have in their life." He made it known that people talk about school, but not in a way to where it is glamorized or praised, and when it comes to performing and playing professional sports, "only a small percentage of people are going to be able to play professionally, or even become a performer or artist at a very high level."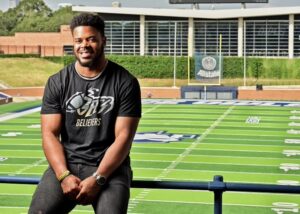 Ellerbee tells his student athletes that if they have a passion for sports and obtaining a career within the arts, he encourages them to follow their passion, but to understand that there are other careers and opportunities available as well. For their artist and student athletes to visualize this, Bee's Believers exposes them to different career avenues by bringing in different speakers, so they hear from different individuals who are working in various STEAM fields.
Ellerbee knew he wanted to play football in college at a high level and even had dreams of playing in the NFL. As a high school student, his coaches would preach repeatedly about the importance of getting an education and having a backup plan in case football didn't work out. Ellerbee's parents were also big on education and pushed him to do well in school. He wanted a school that would not only give him the opportunity to play football, but also a good education. A graduate of Rice University, Ellerbee majored in Civil Engineering, and achieved his dream of making it to the NFL as an undrafted rookie. He has played for four teams and has overcome different challenges such as a two torn ACLs, which the most recent of the two caused him to miss last season.
Because football is such a rough sport, Ellerbee has known people to have had devasting injuries that could be a career ending. Although Ellerbee had to work hard to recover and get back to the sport he loves, after his injury, there was some relief knowing that in case things didn't go as planned he knew he had his "engineering degree in his back pocket." Ellerbee said, "It was ingrained in me through my coaches that I had throughout high school, throughout college, and also my parents that helped me realize and see the bigger picture that getting to the NFL is not the final destination."
The name Bee's Believers is unique and came from Ellerbee's last name. He took the bee part from the last part especially since people his rookie year, and even people today would call him "Bee". "The three letters of the Bee are an acronym for "Be. Exceptional. N' Everything. It fits with our whole entire mission statement of whatever you're going to do, try to be the best you can at it."
Currently, Bee's Believers has 15 students in their program, and hosts different events such as their Spring Seminar Series, which is geared towards high schoolers. In this seminar series they bring in former pro and collegiate athletes to come in and speak to their students to let them know about the challenge they're going to face. "We're big upon transparency and mentorship…the three pillars of our programming are networking exposure, mentoring, and real-world application. Although most of their programs are geared towards high school students, they do have a football camp that they host in the summer for middle and high schoolers. A community event that they put on is their Holiday Meal Giveaway, which happens in December. During this drive, they provide 100 meals to Houston families at The FORGE for Families, a community center in Third Ward. They also have a recruitment event, their Top Golf fundraiser, and a three versus three basketball tournament.
For student athletes, Ellerbee's advice is to live your dreams. "Whatever you want to do, go after it, and go after it 110% because nine out of ten times, you're going to land somewhere close to that. And even if it's not exactly what you want, you're going to learn a lot on the journey." Ellerbee also discussed the importance of working hard but also having traits of "perseverance resiliency, and just being determined."
Bee's Believers is looking to expand their reach so they can help more students. They are also looking for volunteers that want to help them continue their mission. For more information about the organization, volunteering, or if you are a student athlete who wants to participate in one of their programs, you can visit their website at www. https://beesbelievers.org.