1881 HBCU Blue Legacy is a developing Non-Profit Organization of Dynamic Spelmanites who are giving back to the Houston community through Service, Mentorship, & Scholarship. Their goal is to raise scholarship money for Spelman College first and ALL HBCU scholars in Houston and surrounding areas. Founded in 2022, they are excited to collaborate with fellow HBCU Alumni to create networking, mentorship, and fellowship opportunities.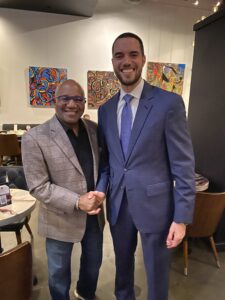 Their first fundraiser, the HBCU Choral Explosion will be held on Monday, March 13th at 6:30 pm at Wheeler Avenue Baptist Church Sanctuary. You can purchase tickets at
https://www.1881hbcubluelegacy.com/upcoming-events
. The musical concert will feature the Spelman College Glee Club with Alumni Guest Artists: Jackson State Grad & World Renowned Jazz Saxophonist, Kyle Turner, Texas Southern Grad – Marium Echo, Howard Grad – Xandi, Morehouse Grad – Jeremy J. King, Prairie View A&M Grad – Integra Foxx, and Spelman Grad – Lea Rutherford. 1881 HBCU Blue Legacy wants to thank their major sponsors who made this event possible: The Collins Family, Houston Mayoral Candidate Chris Hollins and wife Morgan Hollis, Trez Bistro & Wine Bar, Gulfgate Dodge Jeep Ram, District J Councilman Edward Pollard, and Dr. Amna Plummer of Critter Care Hospital.
Our 1881 HBCU Blue Legacy Honorees are Pioneer Award – Mrs. Jackie Bostic, Acts of Service Awards – Councilwoman Dr. Carolyn Evans-Shabazz, Acts of Mentorship Award – Ernest & Floretta Collins, Acts of Scholarship – Mrs. Avelina Holmes & NAACP ACT-SO & Youth Works, and Acts of Courage Citizen's Award – Mrs. Nettie Murray.  You don't want to miss this amazing display of HBCU Talent!!!
The 1881 HBCU Blue Legacy sisters wanted to support Black Owned Restaurants while creating an atmosphere of HBCU Love. That is how the HBCU Happy Hour was born. Check out their next HBCU Happy Hour at The Savoy in Third Ward on Thursday, April 27, 2023, 6:30 pm – 9:30 pm.  They are doing great things in Houston to support HBCUs to stay informed of their events and great work go to 1881HBCUbluelegacy.com