Brothers Organized 4 Change presented Dr. Ruth J. Simmons's "HER-OES" HONORS, which was a great Women's Empowerment Breakfast celebrating some of Houston's most outstanding Women leaders. Their motto was "Because There Are No Heroes Without Her," which was a lovely way to describe the fantastic women honored. These extraordinary leaders serve in various organizations volunteering countless hours, and giving their talents to our Houston community. According to Chance Roberson, "We will be honoring some amazing women throughout the remainder of the year. These ladies have shown grace, poise, and strength in our com-
munities and have been on the front line of the struggle."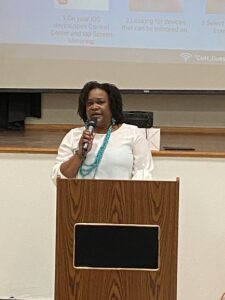 Mr. Roberson was hands-on for the entire breakfast representing Broth-ers Organized 4 Change as he congratulated every honoree. Everyone enjoyed a delicious
buffet with catfish and grits, croissant breakfast sandwiches, fruit, and french toast souffle as we learned about Houston Sheroes of the Past, such as Christa Adair of Adair Park, Julia C. Hester of The Hester House, Beulah Shepphard, Mayor of Acres Homes, and several others. The historical Houston Past Shereo that stood out the most for me was Josie Robinson, who created the first Master Planned Community for Middle-Class Black people in the country right here in Houston. Hats off to the Brothers 4 Change organization for celebrating Houston's legacy of Black Women Excellence.