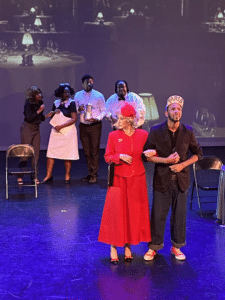 "Expectations Create Limitations" – Patrick Kelly
Energetic, Authentic, Vibrant, and Heartfelt are emotions that run through my mind after enjoying Vincent Victoria Presents…The House of Patrick.  This masterpiece chronicles the extraordinary life of Patrick Kelly (1954–1990), who was known for his bold, bright, and joyful fashion creations that were inspired by his life and experiences in the streets and nightclubs.  His fashion style was a hit on the runways of New York, Paris, and beyond. The first American and the first Black designer to be admitted to the governing body of the French fashion industry, Kelly boasted celebrity couture clients, including Betty Davis, Madonna, Cicely Tyson, and Gloria Steinem. His designs are distinguished by a combination of playful aesthetics and a willingness to brazenly foreground race and heritage and push cultural boundaries, including racial tropes like golliwogs or Black baby dolls. Patrick was unapologetically Homosexual and Southern and displayed great pride in the love of his family.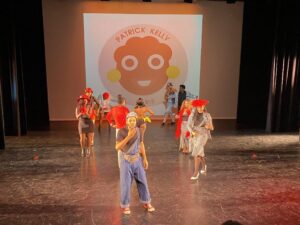 Director Vincent Victoria did a masterful job of displaying the humanity, originality, heritage, and pride of individuality that Patrick Kelly stood for. Taylor Getwood was exquisite as Patrick Kelly, and so was his costar Audrey Coe as Bette Davis.  Their portrayals were authentic and heartfelt. The relationship between Patrick and the Hollywood star Bette Davis was a sheer delight to watch develop throughout the play.  This play had skilled and honest portrayals throughout the cast that were refreshing and exciting to watch our local talent shine. My favorite part was the transition from party time to Patrick getting sick and hospitalized. It takes you through an array of emotions and truly helps you relate to the humanity of caring for the person you love when the world tells you it is wrong to love them.  The honesty of portraying a Homosexual relationship between Patrick and Johan was terrific because it was no different from the love Patrick shared with his beloved family, just in a different context.
This delightful play can still be enjoyed at the Midtown Arts Center 3414 La Branch on July 14 – 23. There are shows on Friday and Saturday at 8 pm and Sunday at 2 pm. General Admission $30, and Students and Seniors $25. You don't want to miss this awesome show.
The cast of House of Patrick was perfectly cast with
Taylor Getwood…….Patrick Kelly
,Audrey Coe………….Bette Davis
Jasmin Roland……..Pat Cleveland
Joyce Murray………..Grandma
CeCe Williams………Letha May
Antonio Vines……….Young Patrick
Venise Watson……..Naomi Campbell
James West…………Mr. Kelly
Austin McLeod……..Johan