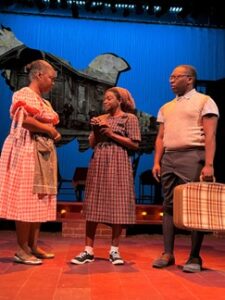 Maya Angelou is one of the world's most well-known poets, so it was a fantastic surprise to discover things I never knew about this extraordinary literary genius. Beautifully directed, thoughtfully choreographed, brilliantly written, and flawlessly acted, the world premiere of Phenomenal Woman did not disappoint. I felt many emotions as I enjoyed every minute of this well-written play. I learned so much about Maya in every stage of her life and the dynamic women who molded her into the internationally loved and admired woman everyone knows.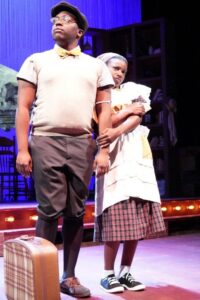 Elizabeth Flax was an endearing and powerful voice as older Maya narrating the story of Maya Angelou's life at every stage. Manniah Harris, as young Maya, was energetic, thoughtful, and tugged at my heart as we experienced some of the most traumatic experiences of her life.  Choreographer Aisha Ussery brilliantly took the audience through various emotions as Curtis Von portrayed Mr. Freeman, who took advantage of young Maya's innocence. I have never seen a traumatic event expressed in such an authentic and caring manner—pure Genius.
Houston Actors Alirc Davis and Rita L. Hughes were great reminders of the overflowing excellent talent that exists right here in our hometown. Lakeisha Randle, as Maya, was energetic, thoughtfully acted, and gorgeously portrayed with caring detail. Foster Davis was a loving and pleasant surprise portraying the lover and husband of Maya Angelou, Tosh Angelos, whom I never knew she had. Callina Anderson portrayed Vivian Baxter beautifully, bringing to life the woman I knew as Maya's mother from I Know Why The Caged Bird Sings. The entire cast was stellar and a delight to watch. Bravo Brava to Angelica Cheri for creating this masterpiece which perfectly celebrates the Phenomenal Woman Maya Angelou was and why we will celebrate her for generations to come.