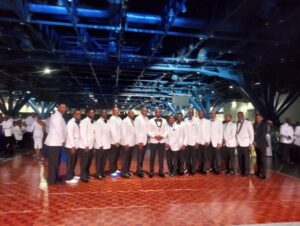 Elegant and exciting were a few words that best describe the energy of the Phi Beta Sigma Conclave Grand Orchid Ball. Handsome Sigma Men from far and wide were clean in their white embossed jackets accompanying their dates, who often wore beautiful shades of royal blue. The best grown and sexy entertainment was enjoyed at this well-attended event. Ledisi's voice was outstanding and did not disappoint.
Phi Beta Sigma Fraternity, Inc. is an international fraternity engaged in communities worldwide for over 100 years. Sigmas are known as an organization that cares about people. Through a variety of programs and initiatives, Phi Beta Sigma continues to live out its mission of "culture for service and service to humanity."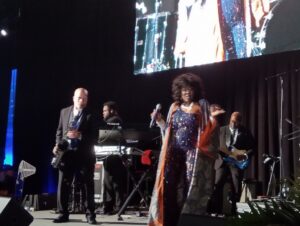 The week of July 10th-16th, Phi Beta Sigma Fraternity celebrated 108 years of international service for its International Conclave in Houston, Texas. Their theme, "Believe in Our Power, Leading the Movement," recognized the trailblazing servant leaders impacting communities from coast to coast. The fraternity's fundamental mission is based on their public promise to vigorously impact the communities they serve by facing and eradicating societal ills that challenge their living conditions.
Their Conclave brought together professional men representing many communities and occupations who are actively involved in the work of their fraternity. Along with developing strategies and plans for being an active, visible presence in their respective communities, fraternity members will continue commemorating 108 years of active involvement and influence in business, education, social services, and politics worldwide. It is safe to say that the Sigmas painted Houston blue all last week, and we hope they enjoyed every minute.