An esport enthusiast, tech scholar, and an innovative leader. David C. Hughes leads the charge to empower Black youth to claim their place in esports. In 2022, he was named a leader in the Metaverse by U.S. Black Engineer Magazine. In 2019, while at Hampton University, David secured a $400,000 technology grant to start the first esports initiative at an HBCU (Historically Black colleges and universities). In addition to his work in education and sports, David is the founder and CEO of the Give Black App, the world's first social impact financial technology (FinTech) app for Black philanthropic efforts for Black organizations.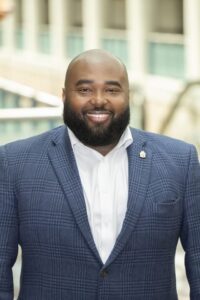 Hughes has positioned himself as a Master of the esports field as he has obtained a Doctor of Philosophy (Ph.D.) in Educational Leadership from Prairie View A&M University, a Bachelor of Arts from Morehouse College in Kinesiology, sport studies, and health education. He also obtained a graduate school of education pre-doctoral fellow at the University of Pennsylvania. Preceding his work in higher education, David has had numerous years of experience in the sports industry working for the Houston Texans, the University of Texas, and interning at ESPN, the University of Miami, 790 the Zone, and Georgia State University during his undergraduate studies. He has truly developed the knowledge, insight, and experience to advance the actual structure, outlook, and future of esports.
Hughes also has many phenomenal achievements such as serving as the co-chair of the Educational Committee with the Atlanta NAACP Chapter, and a board member of Creekside High School's Student Governance Council. He has been nominated for faculty of the year, published a children's book that highlights HBCU accomplishments, and was selected as an Emerging Scholar by American Educational Research Association (AERA). In addition, he has received certificates from Bloomberg in Business Market Concepts, the University of Pennsylvania for Race and Equity in Education, and Hampton University for Executive Leadership training. Hughes has been busy serving our nation in Houston, Atlanta, and Philadelphia. He has emerged as a dependable, scholarly leader ready to strengthen our community.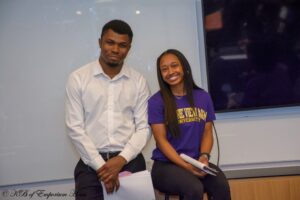 Additionally, Hughes has been elected as the Diversity Chair on the executive student board of the North American Society of Sport Management (NASSM), served as a former Philadelphia Summer Search Youth board member, and has been selected by HBCU Buzz as a 30 under 30 recipient. Hughes has also been selected as a 40 under 40 recipient by PVAMU, was the first Student President of the Drake Group before serving on the board of directors for the Drake Group; he is a member of 100 Black Men, and Alpha Phi Alpha Fraternity, Inc. He has been selected as a Next Generation Leader by the NAACP, served as the Education Committee  Co-Chair for the Atlanta branch of the NAACP, and has served as the Secretary of the Houston Morehouse Alumni Association for five years. Coupled with his work in education and sports, David is the founder and CEO of the Give Black App, the world's first social impact financial technology (FinTech) app for Black philanthropic efforts for Black organizations. Thank you, David, for committing to monitoring the next generation of esports Leaders to take advantage of everything the field offers.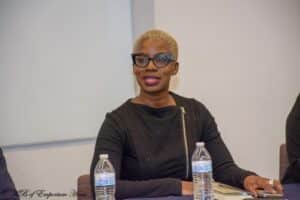 Here are some questions that Afram News asked Hughes about his work with esports.
Afram News: How long have you been mentoring students interested in esports?
Hughes: In 2019, while a professor at Hampton University, I started the first esports initiative at an HBCU.
Afram News: What is the future of Black Creatives in esports?
Hughes: Two words, unlimited potential, because the space constantly evolves, and there are opportunities for Black people to get involved. They are becoming an IP lawyer or business manager for a Twitch streamer. Around ten years ago, we wouldn't have even been able to have a conference about the career opportunities for esports for Black people.
Afram News: How can a student take advantage of the programs you offer?
Hughes: Our goal with the conference is to let people know how to take advantage of the college and career opportunities they might need to learn. For example, over 204 academic institutions offer esports, most of which offer scholarships. At Ohio State University, they implemented esports in five colleges, including arts and sciences, education and human ecology, engineering, business, and health sciences, and the Ohio State Wexner Medical Center. Now you have a space if you're interested in esports and medicine. We want Black people to get involved in this billion-dollar industry with meaningful careers and businesses.
Afram News: What skills are needed to succeed in the esports Career market?
I suggest using your current skills and adding an esports lens to it. For example, if you're really into music, work on scoring video games (selecting or creating the background music for a game). If you're really into writing, write the script for the game. If you're good at marketing and business, look at how to sell and promote a game. If you're going into law, look for an esports player or company as a client. If planning events are your thing, become an esports conference or tournament project manager. You can become a dietitian or personal trainer if you're into health. You can do that for an esports team.
Afram News: What advance would you give an Aspiring esports Creative? Attend as many esports events as possible and grow your network. Find mentors within the space, anf find your niche within the esports ecosystem and develop it.