Shauna Jones, Assistant Principal at MacArthur High School in the Aldine Independent School District (AISD), saw a need for keeping her students out of trouble and getting them on the right path. "I noticed that our students are making bad decisions, so I went to my building principal and told her that we have to do something different because our students are making decisions that could change the trajectory of their lives." After she received approval from her principal, Shauna Showers, she arranged a field trip for the students to visit court. Jones wanted students to learn about the criminal justice system and the importance of making good decisions.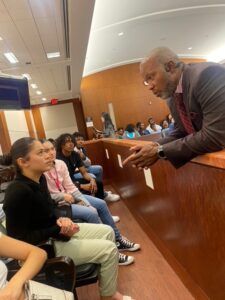 Before the students went on the field trip, Jones did a mini lesson on the criminal justice system. "I had them analyze national and Harris County data, as far as the criminal justice system goes and had them look at statistics for different racial backgrounds so that they can get a feel for the racial disparities that are taking place in our country." This was eye opening for the students as they saw the data of how many people are incarcerated and was able to process the information.
Once they arrived at court, Jones encouraged the students to get a feel for everything and "look at the people that are entering the system…to look around the courtroom and look at the professionals that are working in the courts and how they look like us." Jones wanted students to understand that even though there were people who looked like them that were being incarcerated, there were also people who looked like them that had successful careers.
Jones described the take aways the students had which was how they need to make good decisions so they don't end up in the system, and they also took away that if they focus on the positive, and work hard, they will be successful in life. "They were empowered," Jones said.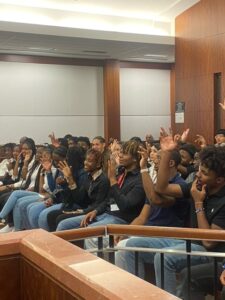 During the field trip, students were able to interact with the judges and ask them questions about their schooling, the hardest cases they've seen, and so much more. The students were also able to sit in felony and misdemeanor courts, and even saw aggravated assault cases. Jones discussed with her students that people end up in the system sometimes due to bad decision making and their emotional response. "As an educator, it is crucial that we teach our students social and emotional skills because they struggle with managing their emotions, which can lead to bad decision-making."
One of the most powerful moments that occurred that day for Jones is when a few parents who were attending court with their child complimented her on what she is exposing the kids to and how beneficial it is for the students to be exposed to things like court. One parent told Jones, "I wish the school district my children were in created opportunities like this because I wouldn't be here today if they did."
The students truly enjoyed themselves and learned a lot. Most of all, they were motivated to make good decisions. Jones hopes to take another group of students back to visit the courts in April and to make this field trip an annual one.