The Kinder High School for the Performing and Visual Arts (HSPVA) Black Alumni Network (BAN) did an amazing job supporting the student actors and crew. Several BAN members are not only Alumni, but also parents of students presently matriculating through HSPVA. The Wiz Emerald City Experience was a pre-show party to raise money for HSPVA African American students. Their goal is to raise money to give students scholarships for summer training, acting conservatories, and college scholarships. Since 2018, when BAN was started, over $30,000 have been raised for scholarships for HSPVA students.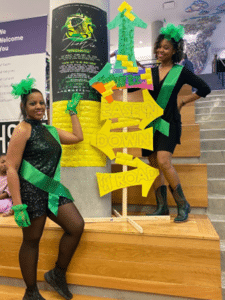 In Elaine Clift Gore's book, "Talent Knows No Color," she explains that "HSPVA was the first United States public school for the arts specifically used for racial desegregation…and a continuing prototype for other public magnet schools for the arts across the United States." It is a known fact that "Black PVA" is the heartbeat of the history of HSPVA along with dedicated career professional artist educators like Mrs. Bonner, who has dedicated over four decades to molding and developing young voices at HSPVA. This effort is crucial to allow equity and opportunity to Houston's extraordinary young black talent.
I was denied into HSPVA, because my Teenage Mom didn't understand the process, and that made the difference in my opportunity to get the support and training to be a part of the HSPVA experience. For many black students, that would crush their confidence and desire to pursue a career in the arts. So, we are proud of BAN's success and efforts to give opportunities to our Black students who need this invaluable support.