Photo Credit: Right Time Solutions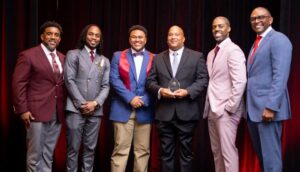 "The fatherhood journey is the best thing I never knew I needed. It is the purest form of ever-evolving unconditional love that a person can ever expect to experience, and for that, I will be forever indebted," said Brandon J. Carson, The Houston Morehouse Alumni Association (HMAA) Father's Day Brunch Chairman, as he shared his insight on becoming a father. HMAA has produced its signature event, the Annual Father's Day Scholarship Brunch, for over ten years to raise scholarship funds for Houston Area Morehouse students. Saluting fathers on the Saturday before Father's Day, has become a treasured tradition that has raised more than $400,000 to increase equity and access to higher education.
Every year, HMAA showcases outstanding African American fathers and highlights the bond of fatherhood that binds our ties to the Houston Community. The program's highlight is always the Maroon Tiger Father of the Year Award. Houston Area, high school students were asked to write a 500-word essay on why their father should be considered the Father of the Year. The student with the winning essay receives a five-hundred-dollar scholarship.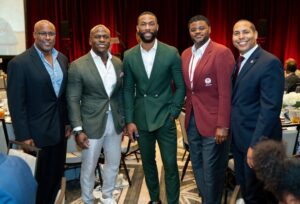 This year's winning essay belonged to Christopher Augustus, an incoming Morehouse freshman from the Cypress area.  Christopher stated, "My father has been a constant source of encouragement and inspiration in my life. He never lets me forget my worth and potential and always reminds me to strive for excellence in everything I do. His faith in me has given me the courage to face challenges head-on, knowing he will support me no matter the outcome. Without his guidance, I can say that I would not be where I am today. The intelligence and unique perspective my father possessed has always amazed me. He has taught me to view the world differently, encouraging me to think critically and question the status quo. His wisdom has been a guiding force in my life, and I am truly fortunate to have been raised by someone with such a vast wealth of knowledge." Christopher's excellent speech touched the heart of everyone in the room and especially his father, Michael Augustus, who received the Maroon Tiger Father of the Year Award.
Awarding exceptional students' scholarships is also always a joyous part of the Father's Day Scholarship Brunch. The scholarship funds usually benefit current and future students at Morehouse College only. However, this is the first year HMAA has decided to award a Houston Area HBCU Scholar scholarship.  Each Scholarship recipient will receive at least a $2,000 scholarship. All proceeds are utilized for scholarships or scholarship programming.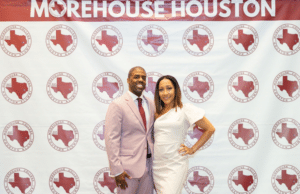 The Master of Ceremony was none other than four-time Emmy Award Nominee Jonathan Martin, who has blessed MHAA with his talents for several years. This year's Keynote Speaker was Dr. Robert Lee Satcher, Jr, the first Orthopedic Surgeon Astronaut for NASA. Dr. Satcher flew on the Space Shuttle Atlantis, STS-129, in 2009. He had a wealth of knowledge on the history of Black excellence throughout NASA. He shared terrific pictures of several NASA African American Pioneers who truly paved the way for a more inclusive experience for African Americans at NASA today.
HMAA 2023 honorees are consistently honored with awards named after Distinguished Morehouse Men who have been integral supporters of the HMAA. This year's honorees included Pastor Joe Ogletree of Image Church, who was awarded the Alvin Wardlaw Mentorship Award. Kevin A. Murray, Esq., who was awarded the Albert James Price, Sr. Community Service Award; Steve Rogers, awarded the Dr. Dezra White Leadership Award, and Frank F. Wilson IV of Houston First, was recognized as the Morehouse Houston Alumni of the Year.
HMMA also takes great pride in thanking our community partners for their continued support. Their Morehouse Houston Community Partner of the Year Award emerged from that effort, which was given to Shawntell McWilliams of Trez Bistro & Wine Bar.  Mrs. McWilliams has worked tirelessly to help HMAA have several events at her establishment and support HMAA fundraising goals.
According to Mr. Carson, "Being a part of the local Houston community, it has always been important to us to reinforce and bind our ties to the community continually we are a part of. One of the ways we decided to do that this year was to expand the scope of our scholarship opportunities from those attending Morehouse in the Fall to those also attending Houston-based HBCUs.  As Morehouse men, we know that our call is not only to impact Morehouse, but we are also responsible for making a global impact, which starts right here in our community." This year Kristen Ashley, a Prairie View A&M University student studying chemistry on a pre-dental track, was awarded a scholarship. The Morehouse College students awarded scholarships are Jordan Wise, who is studying software engineering, and Marlin Seale, and Surrell Taylor, who are both studying Engineering.
HMMA would like to thank its sponsors who make the Father's Day Scholarship Brunch a great success every year. Their Platinum Sponsor the Chandler Family Charitable Fund. Their Gold Sponsors were Diabetes Center of Houston, Gilmore Family Giving Fund, and Greenberg Traurig, LLP. The Silver Sponsors were Comcast Corporation, Chris Hollins, Et'Chane Towers + Bert Jennings, III, H-E-B, The Williams Companies, Inc, Vernonville Asset Management, and William Walker. Their 1867 Sponsors were Angela and Cedric Joubert '70, Brandi and Brandon J. Carson '05, Deion Brown, Dorian Mair, Dr. Demetrius Green, Derek Garrett, Edward Pollard, Image Church, Kevin A. Murray, Esq., Kevin Riles, Lavergne Enterprise, LLC, The Luke Church, Mike Adams and Sledge Leonidas, and Tre Bryant + Don Taylor.
HMAA Father's Day brunch always leaves you with great pride for the strength of Black Men in America and the beautiful legacy of the Black families they lead. This gathering in honor of great Black men always stands as a testament to the strength, brilliance, and exceptional success of Black men and the outstanding work they are contributing to our community.