The Mayor's Office of Cultural Arts, Houston Arts Alliance with City of Houston At-Large No. 4, Council Member Letitia Plummer, sponsored a grant workshop for the Houston Community to learn about the arts grants, services, processes, and awards that are available to Houston residents. This was an effort to help Houston citizens improve their chances of getting a gift to support their art projects. All creative producers were invited, no matter what their art discipline is.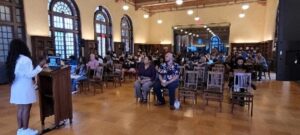 This workshop was packed and truly did a service to the community at large.  A recent study of Houston Arts Alliance grant recipients revealed that 65% of grantees were White men.  Houston is one of the most diverse cities in our nation, but only a tiny fraction of the Arts opportunities is given to people who reflect Houston's population. That is a major problem.
Houston Arts Alliance (HAA) is a local arts and culture organization whose principal work is implementing the City of Houston's vision, values, and goals for its arts grantmaking and civic art investments. HAA's work is conducted through contracts with the City of Houston, overseen by the Mayor's Office of Cultural Affairs (MOCA). HAA also executes privately funded special projects to meet the arts community's needs, such as disaster preparation, research on the state of the arts in Houston, and temporary public art projects that energize neighborhoods. HAA takes pride in helping artists and nonprofits be bold, productive, and strong.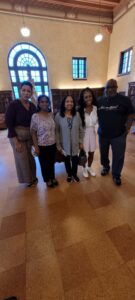 Taylor Jackson, HAA Director of Grants, did an excellent job facilitating the workshop and thoroughly explaining the ins and outs of the grant process from start to awarding and receiving Houston grant funds. Colleena Payne, Grants Manager, was very hands-on and ready to answer any questions about the grant process. The audience of possible grant recipients reflected the population of Houston. This was an excellent opportunity for any artist to get detailed and vital information about the process. If you missed it, visit https://www.houstonartsalliance.com/ for more details about their grant opportunities. Thank you, Council Member Dr. Plummer, for creating the opportunity to enlighten our Houston Artists about the process it takes to get funded to spread the Arts throughout the Houston Community. The Houston Arts Alliance leadership and staff did an exceptional job of making every potential grantee feel welcome and confident about their chance of being awarded a grant. To every Houston artist, don't be afraid to give it your best effort. You could be the next grant awardee.
The City of Houston Mayor's Office of Cultural Affairs (MOCA) develops policies and initiatives that foster an environment where art and culture flourish for the sharing and benefit of all residents and visitors. You can find great cultural destinations and engaging arts events all over Houston daily. Visit Houston's Cultural Events Calendar at http://calendar.haatx.com/ to explore the city's extraordinary creative and cultural activities, including individuals and organizations supported by city grants. You can find out what's happening in Houston's SEVEN Cultural Districts: Arts District Houston, Midtown Cultural Arts & Entertainment District, Theater District Houston, Houston Museum District, East End Cultural District, Third Ward Cultural District, Fifth Ward Cultural District at https://www.houstontx.gov/culturalaffairs/.