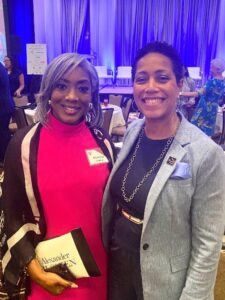 "HAUL acknowledges the inherent significance of empowering individuals to influence their own trajectories, championing their civil liberties, and cultivating an environment of equitable treatment within the community. We convene each year for this luncheon discussion to magnify our resolve for justice, civil rights, equality, diversity, and inclusion. When we do these things, we set the stage for racial equity, social parity, the opportunity for wealth generation, and community stabilization. That is the aim of a caring community," said Judson W. Robinson III, President & CEO of Houston Area Urban League (HAUL).
HAUL celebrated 55 years of servicing community members in achieving economic self-reliance, parity, power, and civil rights. HAUL's corporate partners, civic organizations, and community leaders had a unique and inspiring conversation about the steps that must be taken to advance equity in 2023 and beyond. HAUL highlighted the work they have achieved and the work they are presently executing to accomplish this goal. The luncheon was a house of who's who in business and enterprise.  It was a great way to celebrate Juneteenth in an empowering way.
Advancing Equity Luncheon Speakers included HAUL Leaders Sylvia Brooks, Former President & CEO, HAUL, Eric Goodie, HAUL Sr. Vice President, Judson W. Robinson III, President & CEO of Houston Area Urban League. The corporate leaders on the panel were Kimberly Blasingame, Director of Talent, Acquisition, and Diversity, Equity, and Inclusion, CenterPoint Energy, Myra Caldwell, CEO & Founder, Caldwell Consulting Services, James Harris, Sr. Director, Diversity & Inclusion and Supplier Diversity, H-E-B, Johnny Mata, Director, Greater Houston Coalition for Justice, Alex Obregon, Vice President of Finance, Comcast, and Julie Sudduth, Regional, President, PNC Bank.