Hearts of Gold is a nonprofit organization that caters to young people through boxing and mentorship. Through passion and commitment to the youth of Beaumont, TX, Timothy Harris, CEO of Hearts of Gold, just wants to advance the community and provide the youth with the tools they need to be successful. Since the YMCA was shut down, the kids of Beaumont "have nowhere to go," according to Angel Jones, who is secretary for the organization. Hearts of Gold wants to give back to the community and give kids a place where they can thrive. Jones made it known that Beaumont has a high crime rate and through their organization, their mission is to educate, keep the kids off the streets, and out of trouble.
After questioning his purpose in life, Harris thought about how he could make a difference in his community. Drawing from his background as a coach, being a leader, and the oldest from a single parent home, he wanted to do something with meaning, and that was to help protect the youth and the community. Jones spoke about Harris' passion when working with the kids and how he lights up when he is training and working with them. Jones also takes great pride in helping the youth. "I always promised God that I will be a protector and to teach these kids to be better than us so they can create a better path for this life. "Jones reflected on her and Harris' youth and how there was "no support system," but with God, they made it through.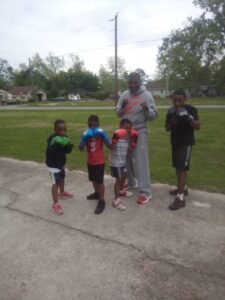 Aside from the crime rate being high, according to Harris, their district is one of the lowest when it comes to testing, so one of their goals is to tutor kids and take them from where they are to where they need to be. "Each one, teach one, each one, reach one," is how Jones described the work they are doing. Jones also stressed the importance of breaking the "slave mentality" within our culture and how we must love ourselves and put God first.
Harris wants the community to know that they "are building and changing this community and the mentality of the community." He further stated, "We are getting our kids out of the box…we want to inspire our community, and let these kids know who they are and who they belong to. We just want to make a better community for our kids so they can have a better life and future."
For more information about Hearts of Gold, you can email goldentriangleheartsofgold@gmail.com.