Everyone should experience a culinary class and an engaging workshop on food as medicine. That is what an inquisitive group of adolescent girls, 6th-8th grade, enjoyed thanks to The Ararat organization. Founder and Chief Executive Officer Kendall Gardner, of The Ararat, partnered with Hope Farms in Houston, Texas to make this event happen.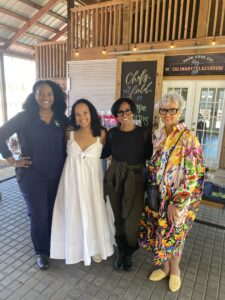 The Ararat is a startup company rooted in digital health committed to empowering individuals to holistically nourish themselves and restore their well-being through community, connection, and celebration. According to Gardner, "The girls had the opportunity to learn about growing and cultivating foods to nourish their bodies. They also picked greens, veggies, and fruit from the gardens to make their own salads for lunch. While enjoying lunch, they had an intimate conversation about our bodies and nutrition practices, which covered nutrition health, menstrual cycles, and hormone health with OBGYN Dr. Sahadat Kemi Nurudeen and myself."
Congratulations to our Houston born and raised executive, Kendall Gardner, on a job well done! We had a delicious salad with ingredients grown right on the Hope Farm. I was excited for every girl who learned the importance of healthy eating and how certain foods can impact their body functions. Crystal Hadnott, Vice President of Development for Moriah Group, was awesome and inspiring. Dr. Nurudeen was thorough, relatable, and endearing. I can't wait to go back to Hope Farm because of the warm welcome you receive once you step foot on the farm.