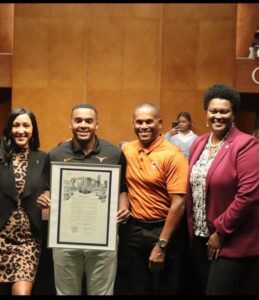 University of Austin Baseball Star Dylan Campbell was chosen by the Los Angeles Dodgers as the 136th overall pick as their next Major League Baseball Rookie. Texas has had at least one player selected in every MLB Draft, first held in 1965. This year Campbell was a superstar outfielder who hit .339 with 13 home runs, 50 RBIs, and a team-high 65 runs scored. He also went 26-for-29 on his attempted steals.
During the season, Campbell accomplished the amazing feat of stringing together a 38-game hitting streak, a school and Big 12 record. Campbell has college eligibility left and will have until later this summer to decide whether to return to school or sign with the teams that drafted him. The assigned value for the 136th pick's signing bonus is $473,700.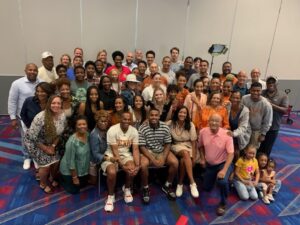 Dylan is an extraordinary athlete who has worked hard to achieve this fantastic goal. Still, he quickly acknowledges the support of his parents Andrea Odom, Co-Founder at Odom Group Consulting, and his father, Palomar Investment Group LLC Executive Vice President & COO and former Texas Southern University Baseball Star, Donovan Campbell, along with his extended family and friends. The Braves drafted Campbell's father, Donovan, in the 22nd round in 1998. His parents, family, and close friends have been with Dylan since his little league years cheering him on and supporting him through this journey. They were all together on Monday to celebrate this momentous accomplishment.  Everyone is so proud of Dylan and excited for his bright future.
Afram News asked Dylan Campbell's Mom, Andrea Odom the following questions:
How does it feel to see your son accomplish his wildest dreams at 21? 
"It's still very surreal, but it actually is a dream come true for not only him, but for our family. It's been a true family sacrifice and for years we have had to miss social and family obligations, traveling all over the country to support Dylan playing baseball. I am so excited for what's next as we watch him work even harder as he prepares for the next chapter."
How do you plan to help Dylan navigate these next steps? 
"Just being there for support as we have done for the past several years. I am very fortunate because Dylan is extremely grounded and independent, so I am at the crossroads as a parent where he doesn't need me to help navigate these next steps, and that's a great feeling because you know that you've done all that you needed to to prepare him for this moment. Off the field, I will continue to help manage and develop his brand.  He is a true example of an African-American-born baseball player, and that has become a rare breed. So we will find ways to continue to reach and inspire young African-American boys to continue to encourage them to play the game."
 Afram News asked Dylan Campbell the following questions:
What advice would you want to share with aspiring professional athletes?
"I say you have to just gotta out work the man next to you and be better than the best player."
What has your family and community support meant to you throughout your baseball journey?
"It has meant the world to me. It has motivated me to keep going throughout college and high school. Seeing the work they put in for me made it easy for me to go out there to be myself and play."