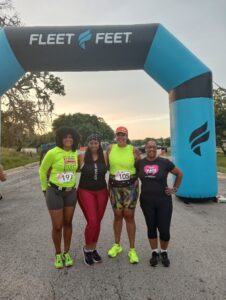 BGR Houston was excited to welcome their fearless leader, Jay El Alexander, the owner, and CEO of BGR, came to participate in the Harmonie Grace Foundation 5K Walk/Run, which is an annual race to raise awareness for micro-prematurity and prematurity. This event recognizes families who have experienced prematurity, NICU experiences, and after-life infant loss. You can learn more about the Harmonie Grace Foundation at www.harmoniegracefoundation.org. This is a great cause to bring Mrs. Alexander from the East Coast to Houston to join over ten BGR Houston Run groups that meet all around Houston and surrounding areas.
There's a massive misconception that black women don't run. In 2009, Black Girls RUN! (BGR) was created to tackle the growing obesity epidemic in the African American community and provide encouragement and resources to both new and veteran runners. BGR's mission is to encourage African American women to prioritize fitness and healthy living. According to the Centers for Disease Control, 80% of African American women are overweight. BGR! wants to create a movement to lower that percentage and, subsequently, reduce the number of women with chronic diseases associated with an unhealthy diet and sedentary lifestyle.
BGR encourages and motivates Black women to practice a healthy lifestyle. They strive to serve as a fitness resource for runners and gym rats and provide tips and commentary on staying active and maintaining a healthy lifestyle. It is a movement encouraging all women to get off the couch and get busy. According to the U.S. Department of Health and Human Services Office of Minority Health, African American women have the highest rates of being overweight or obese compared to other groups in the U.S, and about four out of five African American women are overweight or obese. In 2015, African Americans were 1.4 times as likely to be obese as non-Hispanic whites. In 2015, African American women were 60 percent more likely to be obese than non-Hispanic white women. In 2011-2014, African American girls were 50% more likely to be overweight than non-Hispanic white girls. The goal of BGR is to help decrease these statistics and BGR is committed to making a change, and they hope you are too.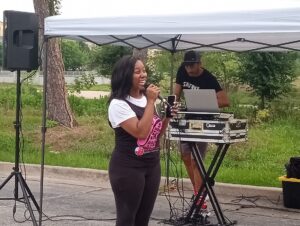 Jay Ell Alexander is a public relations practitioner committed to giving back to her local community through her passion for communications, health, and fitness. She has served as the National Manager and Public Relations Director of BGR since 2012. In April 2018, she became the owner and CEO of the organization. She also owns The Vaughn Strategy, a public relations strategy consulting firm.
A native of Norfolk, VA., Alexander graduated from George Mason University in Fairfax, VA (2008), with a Bachelor of Arts in Communications with a concentration in journalism. She also received a Master of Science in Strategic Public Relations from Virginia Commonwealth University in Richmond, VA (2010). Alexander has a passion for running (completing her first marathon in 2014 and numerous half marathons, 10Ks, and 5Ks since 2010), loves shopping, and traveling.
She is a member of Alpha Kappa Alpha Sorority, Inc. (Omicron Iota, Spring 2007) and resides in Richmond, VA. with her husband, Chris, their son, Ceej, and pup, Luna. You can connect and learn more about Jay Ell by going to www.jayellalexander.com. To learn more about opportunities for a Houston Area Black Girls Run group, visit www.blackgirlsrun.com or https://www.facebook.com/groups/blackgirlsrunhouston/.