Houston's Arts Community would not be the same without Bebe Wilson's extraordinary talent.  She has put in the work. Whether she is acting for the Ensemble Theatre, teaching theatre students, or being in leadership roles with the Talented Tenth Theater Company, Bebe has given her blood, sweat, and tears to make amazing theater in Houston. Her dedication and commitment deserve to be highlighted and celebrated. We are excited to see Bebe starring as Big Ma in the Stages play Cullud Wattah. We caught up with her to ask a few questions and help Houston learn more about this awesome actress.  Hopefully, you will be inspired to catch this dynamic show before it ends on March 31, 2023. Go to www.stageshouston.com for more information.
Afram News: Bebe, please tell us about your background and what led you to become an actor.
I was raised in Shreveport, La. I have always been involved in speech and drama. I competed in speech and orators at district and state levels.  I attended college at Louisiana State University majoring in Communication Broadcasting for 2 years, however, my love and passion for the theatre were instrumental in my decision to move to Houston, Texas. I met and start working with the late founder George Hawkins of The Ensemble Theatre in 1980. I have been an integral part of The Ensemble for more than 35 years, working as an actor, Tour Ed coordinator, and director of the Young Performers program. I'm currently working with the Talented Tenth Theatre as Executive Director and a class instructor. Many of our students have gone on to pursue careers in acting on stage and television. I'm a wife, mother, grandmother, and great-grandmother.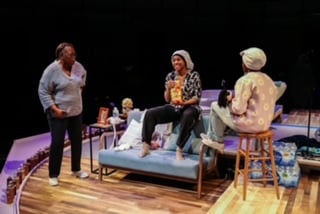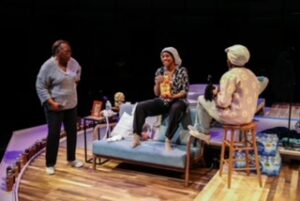 Afram News: What have been your best experiences in the Houston Theater Community and Why?
One of my best experiences has been working with The Ensemble Theatre and the Talented Tenth Theatre, meeting so many friends, telling stories from a black perspective, working, enriching, and exposing students of color in the school system to the theatre, that may never have the opportunity of seeing the inside of a theatre.
Afram News: How do you think the Houston Theater Community can be improved and get more support?
I believe the Houston Theatre Community can be improved by being more inclusive when selecting their seasons. There are so many actors, really great actors, wanting the opportunity to work, but if no scripts are reflective of the stories and characters of Black people then the work is but for only a few. The continuous support of the community and support from corporate and philanthropists would be helpful in the life of the arts.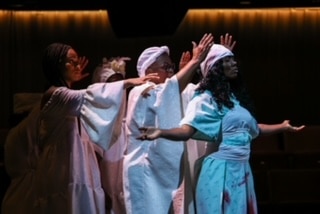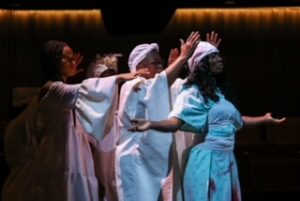 Afram News: What was a challenge for you as Big Mama? What did you love?
My challenges in the role of Big Mama were the rhythm of the poetry, pauses, and lulls in the show. Being an actor, the (lulls) or silence is very uncomfortable, it usually means that a line has been dropped or omitted. It was challenging to take breaths, pauses, and lulls. I love how beautiful but painful the story is executed by my amazing director Rachel Dickson, stage manager Trinity, and my unbelievably talented cast, Aryana Green, Reyna Janelle, Jessica Jaye, and Tyne Jeanae. Kudos to the creative team and the staff of Stages Repertory Theatre.
Afram News: How does Cullud Wattah dispel myths and bring forth the truth about the Flint Water Crisis?
The playwright Ms. Erika Dickerson-Despenza does an incredible job based on truth in telling the story of three generations of women facing impossible challenges day to day with the water crisis and that it goes way beyond Flint, MI. Every human has the right to clean water.