Angel's Surviving Cancer (ASC), Inc. truly outdid themselves presenting their Angel's Breast Fest. Breast cancer survivors came out in full effect to celebrate each other, exchange valuable information, and essential survival tips to thrive during and after their breast cancer journey.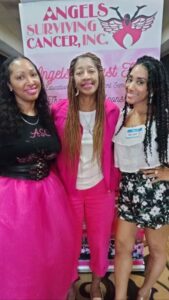 Angel's Surviving Cancer, Inc.  a 501(c)(3) breast cancer survivorship for 12 years under the leadership of Janice Workcuff, Executive Director, and a 35-year survivor. ASC's mission is to enlighten, encourage, empower, and educate the community, and their families about breast health awareness. This is to give those that are going through breast cancer a much-needed sense of control over their situation to maintain their quality of life.
Dr. Morgan Mitchell did an exceptional job moderating this important event. ASC's Empowerment Seminar brought together several experts to give every participant vital information needed to help them make the best choice for their journey surviving and thriving breast cancer. There were workshops on mental health, healing power of Cannabis for breast cancer patients, and other valuable information. There was also a delicious breakfast catered by The Power Center. A huge thank you to keynote speaker, Dr. Carlie Bell Biggins, Oncologist Dr. Tiffany Avery, and Clinical Psychologist Dr. Jacqueline Jones-McKinney, for their priceless knowledge and guidance. In addition, a special thanks to their amazing sponsors Walmart, Lamik, Cafe Ju Ju, J Golden Photography, and Harmon Nails.
Congratulations ASC on truly being of service to our community and giving much needed support to breast cancer patients and survivors. Please make sure to follow Angel's Surviving Cancer, Inc. at https://angelssurvivingcancer.org (https://angelssurvivingcancer.org/) or  on Instagram at @angelssurviving for more information on their events, programming, and helpful tips.