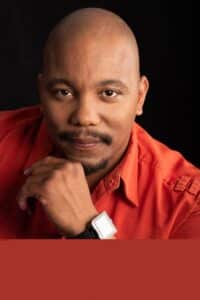 Compassionate, powerful, inspiring, and extraordinary are a few words that come to mind when describing Curtis Von's performance in the Ensemble Theater's Rolling World Premiere of Phenomenal Woman.  He is a multi-talented, diverse actor who portrays various roles in the play, but the role that stands out is the portrayal of Mr. Freeman. He is the man who took advantage of Maya Angelou's innocence as a young girl.  Curtis admitted that he couldn't enjoy the play until that part was over but handled it authentically and carefully. It was uncomfortable to watch but artfully done through dance that conveyed the uncomfortable feeling of the moment.
Since entertaining was never a career goal, who knew that after accepting a challenge over a decade ago, Curtis Von would go on to star in over thirty films, 80 theatrical productions, numerous commercials, and form his own production company? Certainly not him, but that's exactly what the Houston native did.
Curtis Von quickly began to achieve success once word got out that he could memorize an entire script in less than 24 hours. Because of this rare gift, productions began to call upon him to replace actors immediately. As his legend grew, so did his passion for art. His desire to entertain has been instrumental in his success, allowing him to share the spotlight with nationally acclaimed talents such as Forrest Whitaker, Vivica A. Fox, Terrence Howard, Kelly Price, Richard Roundtree, Jada Pinkett-Smith, Suzanne Douglass, Clifton Powell, Eddie Griffin, Keisha Knight-Pulliam, Lavan Davis (House of Payne), Terri Vaughn, and Tommy Ford, to name a few.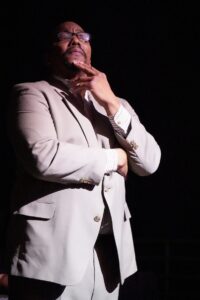 Igniting the stage, Curtis Von has performed in productions such as Tyler Perry's Why Did I Get Married, Michael Baisden's Men Cry in the Dark, It's All in the Family, Bruised But Not Broken, and the critically acclaimed The Diary of Black Men: How Do You Love a Black Woman. Wanting to reach a broader audience, Curtis Von expanded his talent to the big and small screen. Some of his film and television credits include Jason's Lyric, Triple Cross, Barbershop Blues, Death of a G, and Ali: King of the World. Curtis also expanded his talent internationally by starring in three Nollywood films, Return of the Exile, Page 36, and the Best Drama Award-winning film Pound of Flesh, which he was nominated for Best Lead Actor for at the NAFCA Awards in Beverly Hills, Ca. He presently co-stars in the multiple award-winning film The Micro, winning Best Actor at the Singapore Film Festival.
With a wealth of experience and a keen eye for talent, Curtis Von began to focus on directing. He directed Robin Givens and Darius McCrary in Will A Man Rob God? and the late Tommy Ford and Terri Vaughn in Hell Hath No Fury. He Co-Producer the controversial film Black Lives: Jurica Road, released in 2020. He's 1st AD for the upcoming comedy Old Man Jackson, starring Kathy Garver, Robert Lasardo, and Tony Ferro. Continuing his journey, he founded his production company, Acting Bad Productions, and the nonprofit organization, It's LIFE, Camera, Action! With that accomplished, he diversified his talents by writing and producing. His original works include, Only God Can Judge Me, Wake Up Young World, and Just As I Am. "Theater is a ministry, and to reach at least one individual makes a world of difference."
Curtis Von thanks God, his loving family, and supportive friends for all he has become. One thing is for sure, more will be coming his way. With his relentless determination, perseverance, and confidence, you can expect to hear his name for a long time. Wherever there are Lights, Cameras, and Action, chances are, Curtis Von is close.